Last week I wanted to make oatmeal cookies, but I couldn't find my grandma's recipe. I know I received it as a wedding gift, but I couldn't locate it. So allrecipes.com got my business and I quickly texted my (recently texting) mom and asked her to send me the recipe for next time. Those allrecipes cookies turned out pretty good, but lacked a little flavor and A LOT of family history (my grandma was well known for her oatmeal raisin cookies). So today the girls and I pulled out all of the ingredients from grandma's recipe and started baking.
I've concluded that my mother has great confidence in my baking skills because she often just sends me the list of ingredients for a recipe with a "mix all together" for directions at the end. Lucky for her...or me...well, us...I've baked a few cookies in my lifetime and can make up my own instructions and get the desired result. Though I did have to text my (recently texting) mom for clarification on the raisin part...more on that later. So, thank you mom for sending this recipe! Now it's not just written on a 4x6 card, it's photographed and imprinted in the blogosphere forever.
First we gathered the ingredients
and poured a nice hot cup of coffee (for me, not the girls) into this cup that has been owned by my parents for as long as I can remember and is now owned by me (I must've been feeling nostalgic).
Ok, now the raisin part. The instructions said to boil the raisins (2 cups, but I halved the recipe) in water (1 cup, but again, I halved the recipe) for five minutes. Do I boil the water and then add the raisins or do I mix it all together and start the time when the mixture starts to boil? Mom to the rescue (again). The answer is the latter, but now that I think about it, I'm not sure it really matters. I also learned that the raisins shouldn't sit in the hot water on the warm burner while you mix up the rest of the dough because the raisins stay warm so when you mix them in with the dough, it gets warm. And not really like any cookie dough I've ever worked with before. So I would suggest putting them in the refrigerator or at least draining them and putting them in a separate (cool) bowl.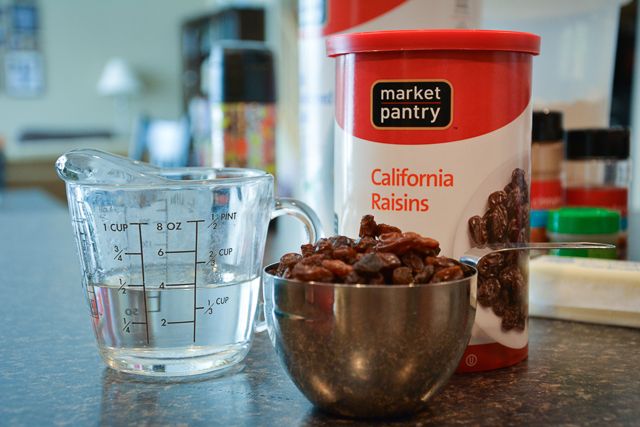 This is what the raisins looked like when they were done.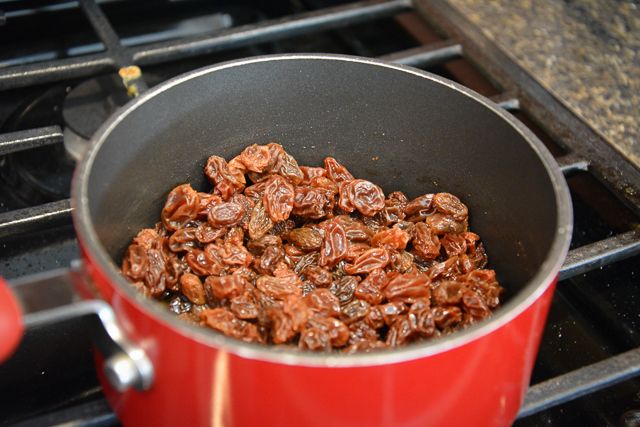 Then it was on to the dry ingredients: flour, oats, baking powder, salt, cinnamon, nutmeg and allspice.
Elise measured the flour and oats while I added the spices.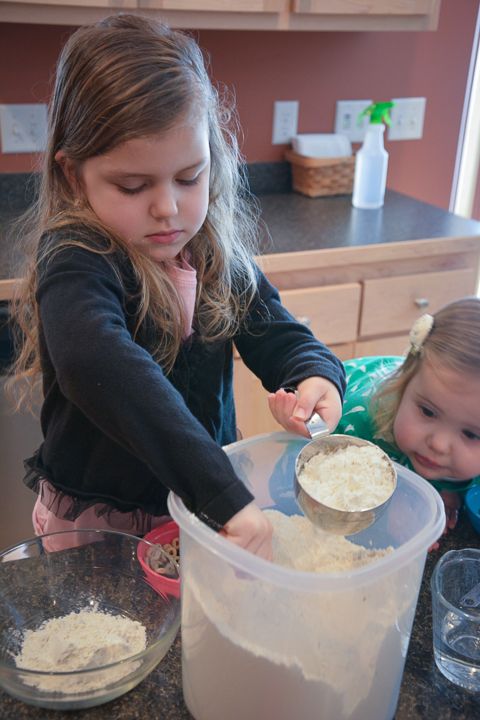 Once this was all combined we set it aside and pulled out the mixer.
Grandma's recipe calls for only shortening, but I like my cookies to have a slight buttery flavor so I used half butter and half shortening. We creamed these with the sugars (1/2 brown, 1/2 white) and then added our eggs and vanilla.
Then we added our dry ingredients and watched it mix for a minute.
Once the dry was incorporated, we added the raisins and the toffee chips. Grandma's recipe calls for nuts, but I substituted the toffee because not everyone in our family likes nuts but we all like candy. We let it mix on low just until the raisins and chips were incorporated.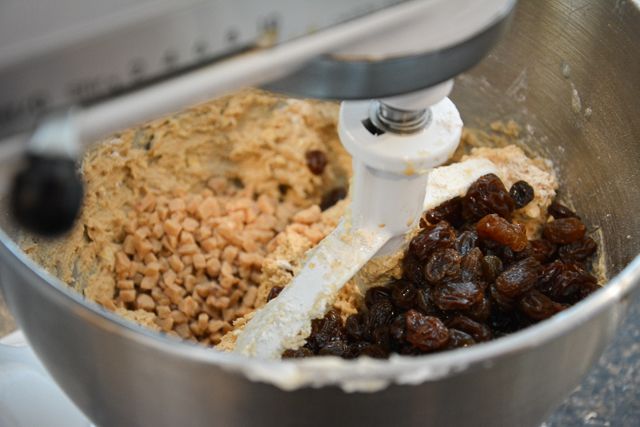 This is the face of a girl seconds away from licking the beater. In responsible mom world I was telling myself that she could get salmonella from eating raw eggs and that she really shouldn't be eating all that sugar and butter. In fun mom world I let her lick the whole thing, left some extra dough on it and even gave the baby a taste. Take that responsible mom!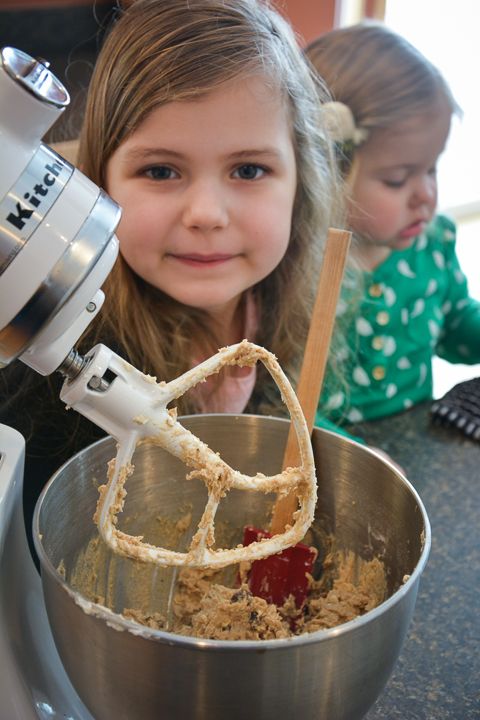 It was time to drop our cookies.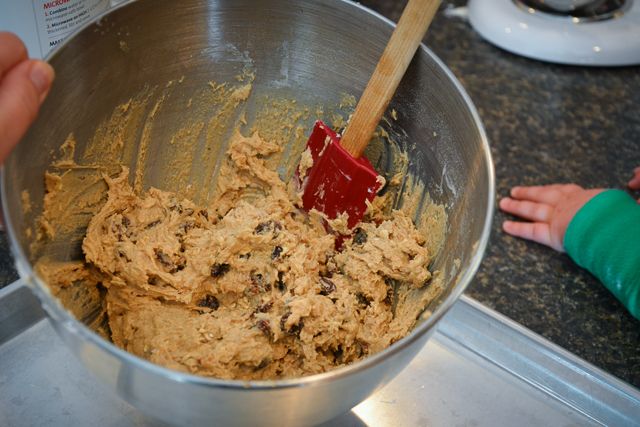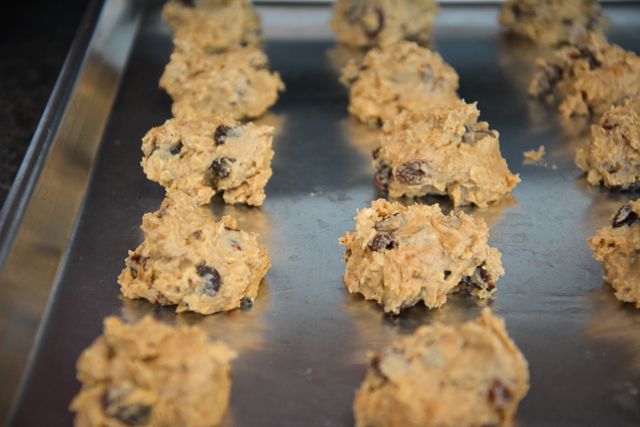 Now grandma's recipe says one recipe will make 81 cookies (I know it seems random but it's 6 3/4 dozen). Apparently grandma made much smaller cookies that I did because I expected about 40 cookies (remember, I halved the recipe) and ended up with 27. Now, I usually end up with fewer cookies than a recipe, but it's like 3 or 4, not 13! What can I say? We like our cookies big around here, I guess.
Into a 350 degree oven they went for 17 minutes (I had to add time) and out they came looking like this.
We let them cool on the cookie sheet for two minutes then we transferred them to the cooking rack.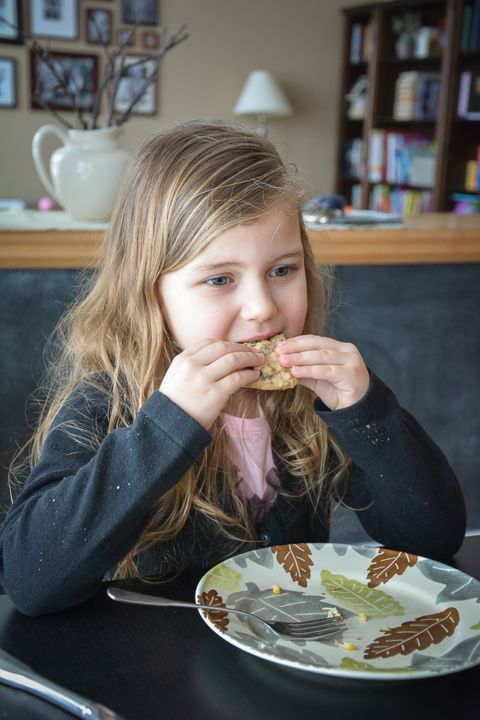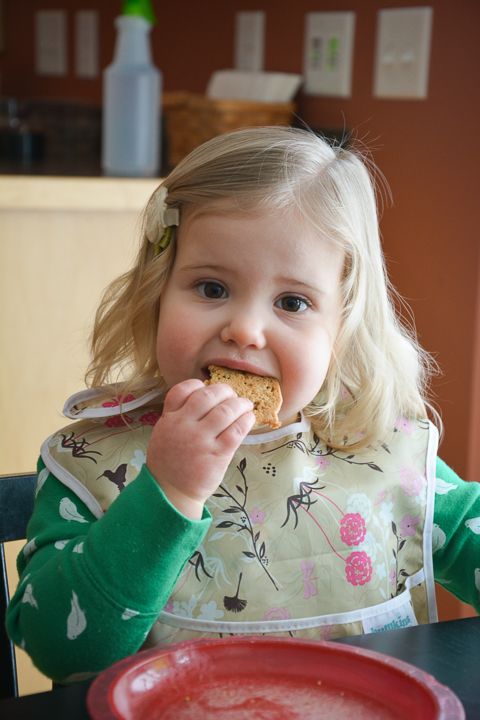 Both girls agreed they were delicious. They tasted just like the ones my grandma used to make.
Grandma Tupper's Oatmeal Cookies
Ingredients:
1 tsp salt (cut back if using salted butter)
1 c nuts (or toffee chips)
Directions:
1. Bring raisins and 1 cup water to a boil. Boil 5 minutes. Remove from heat, drain and transfer to separate bowl. Set aside
2. Whisk together flour, oats, baking powder, salt and spices in a medium bowl. Set aside.
3. Cream together shortening and sugars. Add eggs and vanilla and mix.
4. Add dry mixture to creamed mixture until incorporated.
5. Stir in raisins and nuts (or toffee chips) just until combined.
6. Drop onto cookie sheet and bake for 15 minutes.
7. Remove from oven and let cool on sheet for 2 minutes before transferring to a cooling rack to cool completely.