At our house, fall doesn't just bring cooler weather, falling leaves, trips to the apple orchard (can't wait for this!) and a not-so-bountiful harvest of pumpkins and squash. It also brings birthday season. Nearly every month between September and January holds a birthday celebration. Sean starts us out on September 6th, followed by Wesley on November 6th and Jack on December 6th. Scary, I know. Elise rounds out our season with her birthday a month later on January 3rd. She broke our "6th" trend (though Sean is convinced she also would have arrived on the 6th if I'd just been patient, but our baby girl was already 5 days late and I felt like I'd been pregnant for 2 years so when the doctor offered to induce me on the 3rd I just couldn't turn him down).
With all of the busy-ness that came along with the changes in September, we opted for a low key birthday celebration for Sean. We made our own pizzas and the kids helped me bake a birthday cake.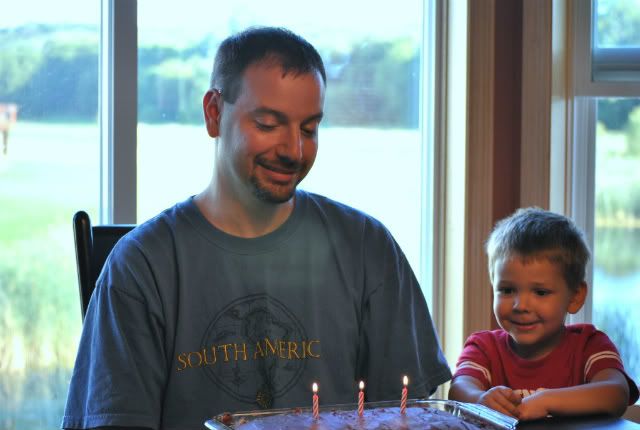 Then Wes helped his daddy blow out the candles.
I know I'm a couple weeks late, but...
Happy birthday to the best husband and dad God could have chosen for us. We love you very much!