Join Mama M
here
.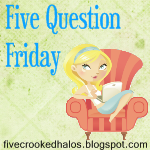 1. Vow renewal ceremonies-yay or nay?
I have to say "nay." It implies that the original vow wasn't sacred and needs to be done again. I just don't like it. Now ask me if I'd want to wear a beautiful dress and have a big party again and I'd jump on board before you could book the DJ.
2. What sound/s annoy you the most?
It is the sound of our middle son crying out of anger. It's SUPER loud, obviously forced and he starts in with waves of "ya-ya-ya-ya-ya" repeatedly. It nearly drives me out of the house when he starts in. It has been one of the biggest tests of patience in my parenting history.
3. If you had to pick, would you have only all boys, or only all girls for kids?
Can I answer this without simultaneously admitting that I want my boys to be girls or my daughter to be a boy? Which, I don't...at all. I wouldn't trade what I've got for anything. God knew what he was doing when he blessed us with our children. But if I HAD to pick, I think I'd say...hmm...well...uh...I guess...boys. Only because there's slightly less drama. Just slightly, though.
4. Do you believe in alternative medicine?
I don't know enough about it to have an opinion, I guess. I think there are many natural alternatives to modern medicine, but I'm a bit skeptical about a tree root's ability to cure cancer.
5. Would you take a family member's children and raise them if they needed it?
In a heartbeat. I'd take a stranger's children and raise them if they needed it. Isn't that what we're commanded to do? Care for those in need?
Question #5 couldn't be more timely. Last night we heard Dr. David Anderson speak about Safe Families for Children and are really excited to become a "safe family" as well as see what the Lord will do with this ministry at our church.