Thanks to the friendliness of "strangers" and Sean's boldness in proclaiming his faith, we found a temporary church family while in Kauai. Why "strangers"? Because fellow believers are never really strangers are they?
We spent Sunday mornings at a little church about one block away from our condo called
Kapa'a Missionary Church
.
After church on the first Sunday, we went to brunch at 22 Degrees North (the longitude of Kauai...or so they claim...I didn't actually verify this claim), a restaurant on the Kilohana Plantation. The brunch was delicious and the scenery beautiful, despite a little clouds and rain. The tables were situated around a courtyard, giving guests the opportunity to enjoy the flora, fauna and "wildlife." In addition to the roosters, hens and chicks strutting around the courtyard, little birds (some kind of pigeon maybe?) hopped around on the floor by our table. I couldn't decide if I felt like Snow White or Melanie Daniels (from The Birds). Sean won the who-can-eat-the-most-at-brunch-contest, but who can blame him when he had so many options? This is his open-face omelet topped with some fancy kind of veal.
Flora
The second Sunday was our last day on the island and, even though our flight didn't leave until 9:45 that evening, we needed to be out of our condo by noon. So after church this Sunday our brunch wasn't nearly as fancy. We pulled out all of the food in the condo and went to work creating our own masterpieces. This was our group effort. Please don't show our kids this evidence that their parents do, in fact, play with their food!
After lunch, we headed out of our condo for the last time, stashed our bags at the reception desk and headed poolside. This is our condo.
We played a few hands of Dominion under the shade of a thatched umbrella.
Then it was time to hit the pool.
And take advantage of the water slide.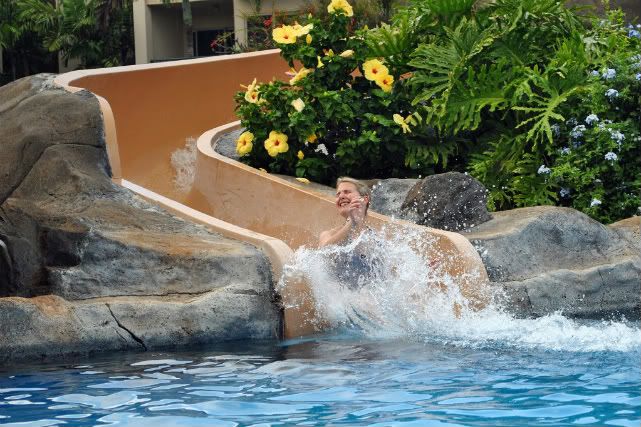 Once changed and ready to say our final goodbye to the Waipoui Beach Resort, we headed down to the ocean for a group shot on the beach.
Aww...
Goodbye sun...and surf...and sand...and...