Another Friday. Another chance to

participate

.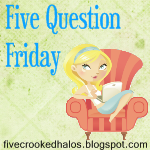 1. What was the first car you owned?
I owned or my parents owned and let me use? Because I didn't actually own a car until I was married and we bought the Grand Prix. Now that I have children and money of my own I realize the foolishness of thinking that I ever really had a car (or anything for that matter) before I bought my own. I just got to use one.
2. What song are you embarrassed to know the lyrics to?
Acy Breaky Heart by Billy Ray Cyrus. What an awful song!
3. Have you ever had stitches?
Yep. No more details.
4. What was your first job?
My first summer job was at an in-home daycare two houses down from ours. The pay was below minimum wage, but I didn't know any better. I was just happy to have some extra money. Dumb kid.
5. Who is your favorite Sesame Street character?
Big Bird, hands down.