Time once again for
Mama M's blog hop
.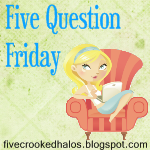 1. What have you done recently that you are proud of?
Every year I say I'm going to read my Bible more and then I up the anti and "commit" to a read-the-Bible-in-a-year plan. And every year I fail in mid-January because I'm much too far behind to continue. This year I started listening to the Bible on my way to work and I am happy to say that I have stayed on track and once was even ahead of schedule. I know I'm not retaining as much because I'm not actually reading the text, but I found something that works with the stage of life I'm in so I'll take what I can get.
2. What is your favorite way to work out? Or if you don't workout, what are you wanting to try?
Before I had kids I really liked to run (much to my surprise). Since then, however, I appreciate any workout that has little time commitment and big impact. The only thing I've found like this is Jillian Michael's 30 Day Shred. It's fast (25 minutes including a warm up and cool down) and has quick results.
3. If you knew your best friend was cheating on a spouse would you tell?
4. If you could afford a live-in maid or nanny, would you have one?
I wouldn't want someone to live with us, but I would love love love a regular housekeeper. Cleaning the house is one of my least favorite things to do. If I didn't have to clean another toilet or scrub another floor I wouldn't complain.
5. Do you stress out about birthdays (specifically the age) or do you enjoy them?
I don't stress out as much as I used to. I think it's because once I hit 30, I stopped keeping track of how old I actually am.